Welcome to Dr. Purushotham Kotha's Heart Smart Global and
Heart Smart info Cardiology Practice, Research and Innovation.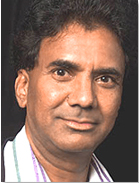 Dr. Purushotham Kotha's Heart Smart Global and Heart Smart info is dedicated to raise awareness of the global population to the global burden of heart disease, metabolic syndrome, diabetes and stroke and provide with evidence based health education and Life style modification tools.
Waist circumference is recognized and being used as a screening tool for identifying individuals at risk worldwide for developing heart disease, stroke, peripheral arterial disease (PAD) and diabetes. The IDF, WHO, NHLBI, AHA, ACC, WHF, IAS, Health Canada, Japanese Obesity society, Chinese Cooperative task force have published ethnic specific guidelines for waist circumference (abdominal obesity) for Caucasians, United States, Canada, Europeans, Europids, Asians, Japanese, Chinese, Middle East, Mediterranean, Sub-Saharan Africans, Ethnic central and South American populations.
Based on Waist line, NCEP guidelines and Framingham risk score we have put together a composite risk profile for men and women of all ages and ethnicities and developed the 'heartsmart global' app for apple, android and windows phones. Learn the Global facts about heart disease, diabetes and stroke and an individual's risk profile based on the number of risk factors including the waist line. This app also provides therapeutic life style changes (TLC) based on the risk profile of an individual.
Larger your waistline shorter is your life span! read about Metabolic Syndrome

8860 Center drive, ste 400 La Mesa California 91942 (619)-229-1995